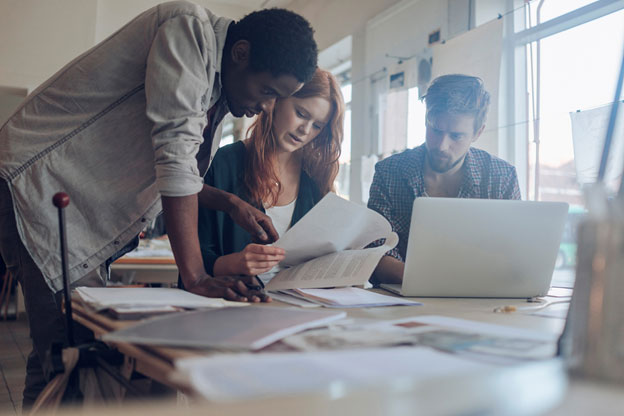 In June 2021, Forbes noted the need for employees in middle-skill jobs, which typically require more than high school, but less than four years of college. These jobs are typically in demand, and preparation or certification program tuition is affordable. Around the nation a solution has evolved for preparing for these jobs: sector partnerships. These collaborative coalitions link employers across a sector, such as health care, manufacturing, or logistics with the institutions which prepare talent, K-12 schools and post-secondary institutions, and work-force development agencies, non-profits, and philanthropic organizations. Employers benefit from a pipeline of ready workers and retraining for existing workers. Education institutions have the input and employer engagement to align curriculum and instruction to employers' needs. Those needing jobs have access to in-demand jobs.
Forming and sustaining these coalitions requires effective facilitation and coaching. Certified Performance Improvement Facilitators have demonstrated proficiency in facilitating complex collaborative improvement across diverse groups and organizations, such as sector partnerships for workforce development.
These facilitators help the collaborators to come together around shared goals, work together effectively, and align and share resources to meet those goals together. This guidance requires proven tools, practices and processes. In 2013, The Commonwealth Corporation published Partnerships: A Workforce Development Practitioners Guide. This resource contains a wealth of well-researched guidance on what must be done to achieve effective partnerships for student success and workforce development. The guidance points to the challenges and complexity of these collaborative arrangements, and provides a framework for what is to be done.
The authors point to the need for a facilitator for the steps in the process, such as setting the mission and goals:
A leader who is recognized to be neutral and to stand for the larger purpose or mission or even an external facilitator may facilitate the process to develop the mission and goals of the partnership.
The guidebook recognizes that the role of the facilitator is not to be directive, but to be collaborative, strategic, flexible, and receptive. How to facilitate the collaborative work, and sustain engagement and results, is not addressed; however, The Institute for Performance Improvement has researched how facilitators effectively guide complex collaboration, and validated ten Certified Performance Improvement Facilitator performance standards. The Institute provides a rigorous virtual development program aligned to the standards which provides proven practices, tools and a systematic performance improvement process which emphasizes its human factors. Those who successfully complete the embedded project, focused on a collaborative challenge they are guiding on the job, earn the CPIF certification and globally verified digital badge.
CPIFs are trained and equipped to help collaborators work through the many challenges of these complex arrangements, especially diversity of opinions, points of view, and conflicting mental models.
For example, because all the participants once attended K-12 schools, or have had children attend K-12 schools, they may make assumptions or hold mental models about how schools work or should work, based on their prior experiences. A CPIF helps participants explore their mental model and learn together to develop ways of thinking and acting that support shared goals. Educators can learn about the needs of employers and get support in integrating solutions to those needs in academic courses and career training. The facilitator helps all engaged to merge into shared perspectives that support needed results for all.
Facilitating collaborative coalitions requires diverse skills, demonstrated by Certified Performance Improvement Facilitators, to work between and inside the stakeholder organizations to achieve shared goals.